We breed for colour, conformation and pedigree.
Wildlife breeders
Cilliers Farming does not only breed with sheep, cattle goat and appaloosas but also with game. Our farm is situated between Mariental and Gibeon on the Swarzrand. This is hardened country and therefore our game will adapt anywhere.
We have a vast number of springbuck and we boast with some long horned, big and beautiful ewes and rams. They have measured between 9 and 15 inches, those that we have caught and sold.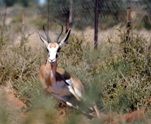 We also breed with golden Oryx. When we bought the farm in 1999 we saw a lot of golden Oryx hides in the storeroom. The previous owner must have culled everyone on the farm as they thought of them as a freak of nature. We bought a split golden Oryx bull in 2009 and that was when our breeders program actually started. We have been very successful as the genes must be extremely strong amongst the cows as we have successfully bred golden oryx. We now have a golden bull in the herd.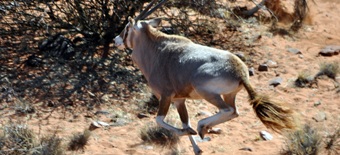 We also started a golden Gnu program. Our blue wildebeest cows were offloaded on the 21st of May 2015 and our golden bull was offloaded on the 13th of August 2015. So far everything is going well as the golden Gnu bull adapted to his new environment quickly and settled with the cows around September. Lucky for us the cows were not served by a blue wildebeest bull and we are awaiting the first offspring of the golden gnu bull.
For High-Res pictures please visit our Wildlife-Breeders-Gallery (click HERE)